THE HUMAN FACTOR
IN THE DIGITAL WORLD
As digitalization progresses, it will no longer be a question of money to gain access to education and knowledge – but of commitment! Our digital programs achieve this commitment with the right mix of real expert knowledge and fun in modern didactic models.

Our learning model is designed to produce real ability.

Would you like to know more about how we can help you to exceed yourself? Then click here: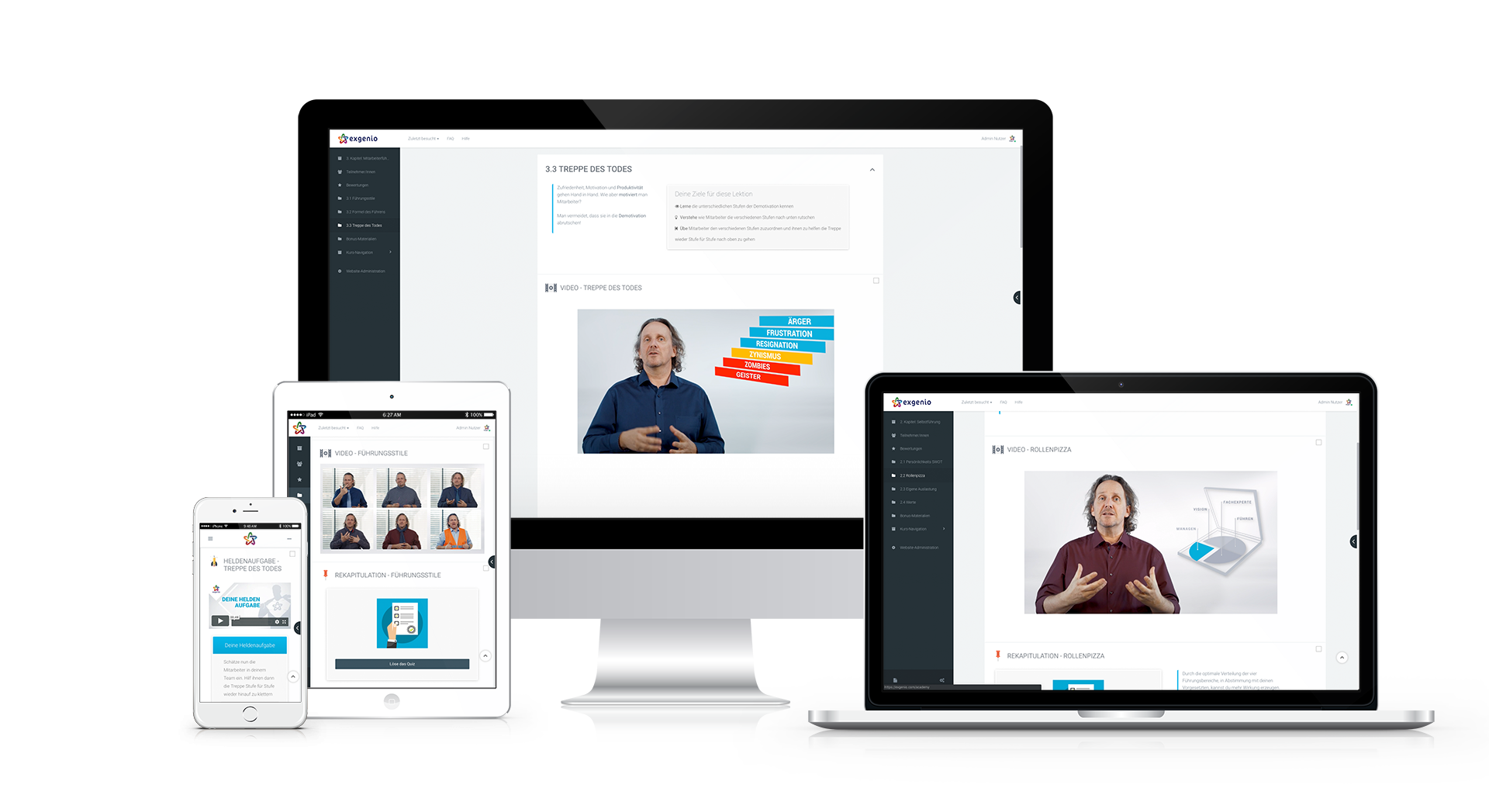 MANY GOOD REASONS
TO TRAIN ONLINE
Studies proof:
Top companies make enormous investments in training and development of their employees - on average just under 6% of personnel costs.
9 out of 10 employees are online, around 80% own mobile devices. In 2025 every employee will be connected to the internet.
Training is one of the most important factors contributing not only to competence and performance, but also to employee satisfaction and loyalty.
People under 30 spend an average of 185 minutes a day on the mobile Internet. Millennials prefer to learn online and via mobile devices.
Sources
statista.com - Internet usage worldwide - Statistics & Facts
trainingmag.com - 2015 TOP 125 ORGANIZATIONS
pewresearch.org - Record shares smartphones, broadband
novoed.com - Strategies for Corporate eLearning
cio.com - Investing in career growth drives satisfaction
10 Advantages
of Digital Trainings
Accessibility
Any Internet-enabled device can access online services. Employees can improve knowledge, skills and business acumen anytime, anywhere.
Versatility and Customization
Training content can be customized in many ways. Gamification, videos, articles, FAQs, case studies, forums and presentations are just some of the learning elements and content types we can use to better engage employees and respond wisely to current situations and needs.
Scalability
In contrast to conventional training courses, where the size of the venue and the number of trainers limit the number of learners, online training courses can scale indefinitely. All employees can participate in the content.
Transparency
You can integrate assessments and key performance indicators into your learning infrastructure. This enables appropriate monitoring, assessment and guidance of learners. Of course, all settings are compliant with the german Data Protection Act.
Improved Effectiveness
Online you can learn when and where you want. Thus no one has to take their entire management or sales team out of their day-to-day business for two complete days; learning takes place again and again in small units.
Stronger Employee Retention
Employees regard further training as an important advantage. An organization that is known for providing world-class training attracts proactive and ambitious jobseekers.
Usability
Different types of learners can be addressed simultaneously online. No matter whether your employees learn better auditory, visual or kinesthetic, you can take any type of learner with you online.
Interactivity
Web-based technologies enable learners to perform exercises, play games, participate in quizzes, and answer questions.
Consistency
The learning content and materials are the same for all participants, and any changes are made at the same time. Nevertheless, employees can learn at the pace they need.
Reduced Costs
Online learning drastically reduces the cost of training. Especially when traditional practices such as on-site workshops, which require travel, reservation and accommodation costs, are replaced.
YOU'VE FOUND
YOUR DIGITAL TRAINING?
To work with us on your topics and solutions, you can simply contact Kathrin Rauscher.
Together we will work on your effective training – we are looking forward to it!